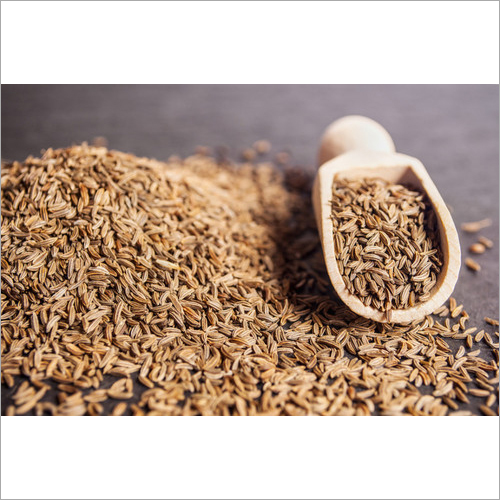 Cumin Seed
Product Code : 05
Price And Quantity
Minimum Order Quantity

:

10000
Unit of Measure

:

Kiloampere/Kiloamperes
Product Description
We take great pleasure to introduce ourselves as one of the renowned exporters and suppliers of the the finest quality Cumin seed. The provided seed is dried and cleaned under hygienic condition. This seed is widely used in food processing industry as a spices in various foods. In addition, the offered Cumin seed is available in diverse packaging options at cost effective prices.

Features:
Free from pesticides
Long shelf life

Safe to consume
Tempting flavor

Cumin

An Introduction
Cumin, An Aromatic Spice Known For Its Distinctive, Slightly Bitter Yet Warm Flavor. This Pale Green Seed Is A Small Dried Fruit Of An Annual Herb In The Parsley Family. Renowned For Its Hotter Taste, This Ancient Spice Is Not Only Popular In Indian Cuisine But Also In Mexican, North
African, Middle Eastern, And Western Chinese Cuisines. It Matches Well With Beans, Chicken, Couscous, Curry, Eggplant, Fish, Lamb, Lentils,
Peas, Pork, Potatoes, Rice, Soups, Stews, Eggs, Etc. Cumin, As A Spice Is Especially Associated With Morocco, Where It Is Often Smelt In The Abundant Street Cookery Of The Medinas.

Cumin Is Native To The Shores Of The Mediterranean Sea And Egypt. It Now Grows In Most Hot Countries, Especially India, North Africa, China And The American Nations. It Is Also Mentioned In The Bible In Both The Old Testament (Isaiah 28:27) And In The New Testament (Matthew 23:23). It Was Favorite Of The Romans, The Europeans And The Britishers.

Cumin Botanical Description
The Cumin Plant Is An Annual Herb, With A Slender Branched Stem Which Rarely Exceeds 1 Foot In Height. The Leaves Are 5-10 Cm Long, Pinnate Or Bipinnate, Thread-Like Leaflets Which Are Deep Green Colour. The Flowers Are Small, White Or Pink, And Borne In Umbels. Cumin Seeds Developed From These Small Flowers That Tend To Bloom During The Summer. The Shape Of The Seeds Is Oblong With A Thicker Middle Part And Laterally Compressed Tips; Each Individual Seed Is About One Fifth Of An Inch In Length.

*Key Constituents
The Strong Aromatic Odor And Bitter Taste Of Cumin Fruits Are Due To The Presence Of A Volatile Oil Which Makes Up About Two To Four Per Cent Of It. This Oil Is Separated Out From The Cumin Fruits By The Process Of Distillation With Water. It Is Limpid And Pale Yellow In Colour, And Is Mainly A Mixture Of Cymol Or Cymene And Cuminic Aldehyde, Or Cyminol, Which Is Its Chief Constituent.