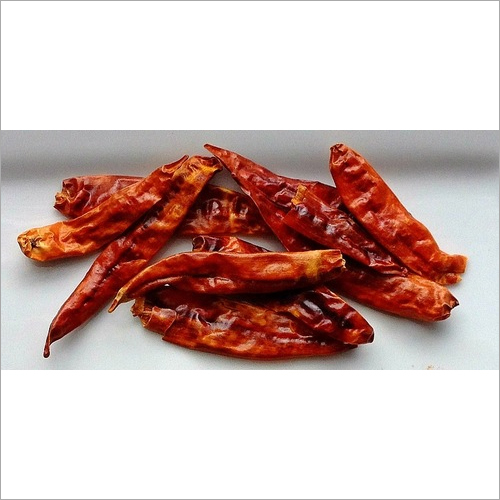 Dry Red Chilli
Product Code : 08
Price And Quantity
Minimum Order Quantity

:

10000
Unit of Measure

:

Gram/Grams
Product Description
Owing to our rich knowledge in this domain, we are betrothed in offering optimum quality Dry Red Chilli. Available in a wide variety of packaging options, the offered chilli is used for adding piquancy in various food items and cuisines. The provided chilli is grown using top notch quality organic fertilizers at vendor's end. In addition, our valuable patrons can easily avail the offered Dry Red Chilli at reasonable prices.

Features:

Natural taste
Freshness
Free from chemicals
Easy to digest
Dry Red Chilly

Dry Red Chilly Or Lal Sukhi Mirch Is One Of The Many Spices Used In Indian Cooking. It Is The Fruit Of The Plants From The Genus Capsicum, Which Are Members Of The Nightshade Family 'Solanaceae'. They Are Commercially Cultivated In Many Part Of The World As They Yield Better Returns As Compared To Other Varieties. The Heat In All Chiles, Whether Hot Or Mild, Is Due To The Flavourless, Odourless, Colourless Chemical Known As 'Capsaicin' Which Is Present In Chilli Seeds And Membranes.

Dry Red Chilly Is Generally Used As A Tempering Agent And Is Fried With Other Spices, Then Added To The Dish As A Final Touch. In India, Lentils, Vegetables And Many Other Regional Cuisines Are Flavoured With This Spice-Flavoured-Oil (Known As Tadka Or Chhaunk), Comprising Of Red Chilly, Cumin, And Other Spices. Dried Chillies Can Be Stored For A Longer Duration-However, The Tasty Part Of It Gets Lost And Only The Fiery Part Of The Chili Peppers Remain In Dried Form.

Fenugreek Seed Generally Contains:


Moisture:6.3 %
Protein:9.5 %
Fat:10.0 %
Fiber:18.5%
Carbohydrates:42.3 %
Total Ash:13.4 %
Calcium:1.3 %

Phosphorus:0.48 %
Iron:0.011 %
Sodium:0.09 %
Potassium:1.7 % Vitamin B1:0.41 Mg/100 G
Vitamin B2:0.36 Mg/100 G
Niacin:6.0 Mg/100 G

Vitamin C:12.0 Mg/100G
Vitamin A:1040 I.U./100 G
Calorific Value:370 Calories/100G
Gums:23.06 %
Mucilage:28.00 %.