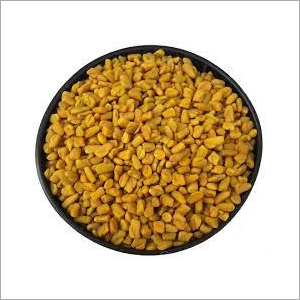 FENUGREEK SEEDS
Product Code : 12
Product Description
Establishment in the year 2015, we are a renowned entity engaged in providing premium grade Fenugreek Seeds. The offered seeds are widely used to add taste in food which help to improve the digest system. Provided seeds are cleaned and packed under hygienic weather condition with the of cutting edge machineries and tools. In addition to this, the provided Fenugreek Seeds can be bought by our valued patrons as per their needs.

Features:

Natural taste
Chemical free
Excellent aroma
Highly effective
Fenugreek

An Introduction
Fenugreek, commonly known as methi in Hindi, is a a plant in the family Fabaceae. Its is one of the plants used both as an herb (the leaves) and as a spice (the seed). A native to India and southern Europe, this plant is cultivated worldwide as a semi-arid crop. The dried leaves (called kasuri methi) have a bitter taste and a strong characteristic smell and are used as a flavouring agent in preparing many dishes, especially in curry. For centuries it has grown wild in India, the Mediterranean and North Africa.

Since innumerable, Fenugreek has been widely used as a food and food additive as well as for its medicinal properties. Fresh tender pods, leaves and shoots are eaten as curried vegetable, while seeds are used for garnishing and flavouring variety of food. Ancient Egyptians used Fenugreek to combat fever. In the classical period, it was grown as a cattle fodder and as a soil renovator. The name derives from the Latin 'Greek hay" illustrating its classical use as fodder. India continues to be the major source and main consumer for its culinary and medicinal uses.

Other Names

It is known as Methi in Nepali and various Indian regional languages like Hindi, Urdu, Bangla,Gujarati and Marathi. Other names of Fenugreek in various languages are:

French: fenugrec Sénegré, trigonelle
German: Bockshornklee, Griechisches Heu
Italian: fieno greco
Spanish: alholva, fenogreco
Tamil: venthium
Telugu: menthulu
Malayalam: ulluva
Kannada: menthyada soppu
Malay: alba
Sinhalese: uluhaal
Arabic: hilbeh.
Fenugreek seed generally contains:
Moisture:6.3 %
Protein:9.5 %
Fat:10.0 %
Fiber:18.5%
Carbohydrates:42.3 %
Total ash:13.4 %
Calcium:1.3 %
Phosphorus:0.48 %
Iron:0.011 %
Sodium:0.09 %
Potassium:1.7 % Vitamin B1:0.41 mg/100 g
Vitamin B2:0.36 mg/100 g
Niacin:6.0 mg/100 g
Vitamin C:12.0 mg/100g
Vitamin A:1040 I.U./100 g
Calorific value:370 calories/100g
Gums:23.06 %
Mucilage:28.00 %.