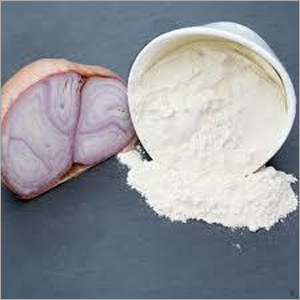 Onion powder
Product Code : 10
Product Description
Considering the increasing market demands, we are affianced in exporting and supplying an optimum quality Onion powder. Under strict guidance of adroit professionals, the provided powder is processed at trusted vendors' end using fresh crushed onion and advanced methods. Best utilization of the offered powder is done in kitchens for enhance the taste of foods. We offer the provided Onion powder to our valuable patrons at nominal prices.

Features:

Safe to use
High medicinal value

Anti oxidant
Stability
Onion Powder

What Is Onion Powder?
Onion Powder, A Spice Made From Ground Dehydrated Onions Is Used For Seasoning In Cooking. Many Cooks Of The World Prefer Onion Powder To Fresh Onions Because It Is Easier To Handle, Saves Time And Require No Chopping Or Special Treatment. Prepared From Finely Ground Dehydrated Onions, They Contain Very Strong Smell And Last For A Longer Duration, If Properly Packaged And Stored. Since Bulb Onions Contain Much Of The Flavor And Distinctive Aroma Of The Onion, They Are Widely Used For Preparing Onion Powder. Onion Powder Is A Perfect Condiment For Taco Mix, Chili, Barbeque Rubs, Salad Dressings, Dips, Marinades, And As An Addition To Hamburgers.

Varieties Of Onion Powder
Loads Of Varieties Of Onion Powder Are Commercially Available In The Market. Some Varieties Are Blended With Other Dried Spices To Give A Distinctive Flavour.

The Popular Varieties Of Onion Powder Are:

White Onion Powder
Red Onion Powder
Yellow Onion Powder
Toasted Onion Powder.
Uses Of Onion Powder
Onion Powder Is An Essential Ingredient Of Various Meat And Vegetable Stews. It Mixes Well With Various Meat Specialties Including Pork, Beef, Poultry, Lamb And Fish. Besides Being Used As A Spice In Preparing Many Appetizing Recipes, It Can Also Used For Other Other Purposes. Some Of Them Are:
Preparing Sauces And Gravies
Preparing Soups, Pastas & Spiced Pastries
Preparing Hamburger Pattie